Text & Photographs by Nathan Ward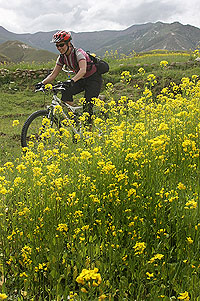 A bicycle journey through Tibet follows a murky line between the past and present, on the backroads of the highest plateau on Earth.
Strung between towering Himalayan peaks, threadbare prayer flags send their timeless pleas sailing out over a land of unknown mountains and the black yak hair tents of nomads, winding through the painted doors of distant stone villages and the shuttered windows of tenacious monasteries, flying through a land ripped from history and thrust into a foreign world. These prayer flags, these wind horses of desire, carry the tales of time here in Tibet, the highest plateau on Earth.
The wind at our backs, we climbed a corkscrew road to the low point in the ridge, more than 17,000 feet above the distant seas, and pedaled over the flag-strewn summit of the Chak La. We paused there beneath the cloudless cerulean sky before rolling into a long descent, one of the marathon downhills only found in the world's biggest terrain.
Accelerating with gravity's pull, we raced past blurred hillsides, our fingers twitching on the brakes, our brains memorizing a string of images – Tibetan men chasing a herd of goats, smoke rising through the sparse fabric of nomad tents, sunburned children yelling tashi delek, a yak swimming a deep river pool. It felt fluid and effortless. After years of bike touring, I still love big downhills the best because it feels like flying.
We stopped at the bottom of the pass, relaxed in a field of wildflowers and looked up at the gigantic treeless mountains around us. It was the perfect day and we were more than happy to be bike touring through the backwaters of Tibet. Not only because we were the only two people in the world doing it, but it had been a rough year for this mystical scarred land and getting here was anything but easy… (the story continues on).
I wrote this feature story after the riots in March 2008.  My wife and I lived 2 blocks behind the Potala Palace, former home of the Dalai Lama.  After several months, we were able to get into the countryside again.  There were only about 15 westerns left in the Tibet Autonomous Region and we were definitely the only people in the TAR on mountain bikes.  This story originally appeared in the April 2009 issue Adventure Cyclist Magazine.  It's available for reprints in the USA and first rights in Asia, Europe and Australia. Contact me for details.