Text & Photographs by Nathan Ward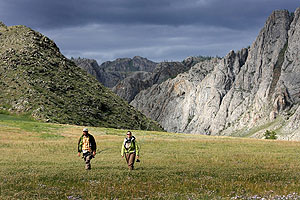 In Searth of the Famed Taimen on the Delger-Muren River in Mongolia
A decade after being "discovered" and mythic tales of giant salmonids hit the press, Mongolia offers a better fly fishing experience than ever before.  Nathan Ward traveled to this land of untamed rivers, open horizons and horse nomads to cast flies for the Mongolian Triple Crown of big Grayling, hook-jawed Lenok and mammoth Taimen.
In one of my favorite daydreams, I'm on a broad remote river in a stunning part of the world.  The current runs clear and cold, it's easy to wade with no brush behind to snag my backcast and I'm fly fishing with a beautiful woman.  In Mongolia it all came true.
Andrea, who was recently my bride, worked a Chernobyl Ant over a deep blue seam in the middle of the river.  Before coming to Mongolia, she'd never even touched a fly rod but now finessed her fly on a long drift along the near side of the channel where fat Lenok were stacked up like lottery tickets under the glass top counter of a 7-11.  A few seconds breathless drift and one rose fast, but in her excitement, Andrea ripped the fly away and missed the set.
"Damn it" she blurted, false cast twice and set the Chernobyl back on the water.  This time she didn't miss and hooked the 15 inch fish perfectly, line tight and jerking under the central Asian sun as the Lenok ran and sawed his way back and forth across the river.  Andrea slowly stripped it into the shallows.  She looked flushed and elated, obviously having tapped into the magic of fly fishing.
This is a story about a wild fishing trip on the Delger-Muren River in northern Mongolia. We worked with Andy Parkinson of www.FishMongolia.com and caught huge Taimen, Lenok and Grayling. This version of the story appeared in This Is Fly Magazine.  It is available for reprints.