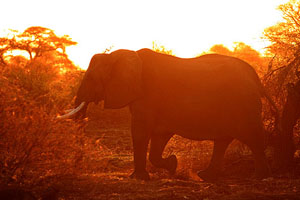 Text & Photographs by Nathan Ward
A mere fifty yards away, the young male elephant stamped the ground, dust billowing around his mammoth body as he tossed his long trunk into the air, smelling.  With our scent in his nostrils, he thrust his ears forward to look bigger and raised his head to show us the white spears of his tusks.  He dripped and raged with the hormones of musth inside him, becoming dangerous and unpredictable.  We just sat blissfully on our bikes watching him come toward us like we were in our living rooms watching the animal channel.  
Our Botswanan guide Mosa was frantically whispering "Let's go!  Ride!  Ride!"  We finally got the message and tore out after Mosa who was already moving up the trail, his .458 elephant rifle bouncing heavily against his back.  When the guide with the gun leaves, it's prudent to follow…
I shot and wrote this story on assignment for Adventure Cyclist magazine and it appeared in their October/November 2010 issue. It details a fabulous guided trip offered by Cycle Mashatu out of South Africa.
The full story is available for reprint in the USA or first rights in Asia, Europe and Australia. Please contact me for details.